When you need a new heating system, you need a company you can trust that will help you identify the proper system for your exact needs.  Environmental Air Systems is a full service heating and air conditioning company,  we offer complete packages that ensure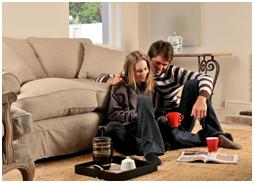 your home keeps a steady temperature that is comfortable and affordable.  Deciding on a new heating system can be overwhelming but we are here to help you every step of the way.  We will lay out all of your options and you can choose the system that meets your needs.  Sometimes, a good heating maintenance or repair can solve your problem, rather than installing a complete system replacement.
Choosing a New Heating System
There are many types of systems in the market that you can choose from and sometimes your home will dictate what type of system you will need but we will ensure that whatever type of system you need, you will get the highest quality system with the longest warrantees in the market.  Environmental Air Systems installs all types of heating systems from High Efficiency Hot Air Furnaces to Hot Water Boilers, Steam Boilers and Radient Floor Heating Systems.  Call 866-339-HVAC (4822) for Heating Services in New Jersey or click here to contact us.
Heating systems can be complex and not every individual is completely knowledgeable about all of the options.  It is important that you can rely on an expert in this area to provide you with the appropriate information so you can make an informed decision.  This way, you can stick to what you do best and leave the complexities to us.
We at Environmental Air Systems take pride in our work and whether you decide to install a new system or upgrade your existing system, you can be sure it will be done with the utmost professionalism.  Our project managers will be able to provide you with dates so you can plan around our work.
Types of Heating Systems
The types of heating systems we install and service cover a wide range and we have extensive experience working with each of them.  Whether you have or are interested in a gas furnace, heat pump, electric heating system, baseboard heat or radiant floor heat, we can help you make the right decision when it comes to heating installation, maintenance and repair.
You can also rest assured that we only install top of the line heating units with the best warranties in the industry.  Regardless of the type of heating system you opt for, you'll only get the very best available when you do business with us.
 Furnace Heating
Even if you decide on a furnace heating systems, you still need to decide on how efficient that furnace should be.  Furnaces come in a variety of efficiency ranges known as the Annual Fuel Utilization Efficiency (AFUE).   AFUE is a thermal efficiency of that furnace.  The efficiency ranges from 80% to 96+%.  Although the lower efficiency units cost less to purchase, they cost more to operate than that of the higher effiency units.
The best way to help you evaluate the efficiency costs is explained in this example:  For instance if your existing furnace has a 75% AFUE rating, for every $100 spent, $75 is heating your home, while $25 is wasted out of your chimney.  Whereas, a new unit with a 96% AFUE rating, out of $100 spent, $96 is heating your home and only $4 is wasted out of your chimney.
 Energy Efficient Home Heating
Sometimes, even when your home is being heated effectively, it isn't always as efficient.  Newer models are built everyday to be more and more efficient in saving energy which means less money out of your pocket each and every month.  Customers often upgrade their heating systems so that they can take advantage of the new savings, even though it requires some additional cost to install.
Complete Heating Service Professionals
Environmental Air Systems offers all types of heating and air conditioning services including installation, preventative maintenance, replacements and repairs.  Our experienced and professional technicians are ready and waiting to assist you with any of your heating needs.  We will take the time to educate you on all of your options so you can make an informed decision.