Realizing that you have to replace your home heating system isn't a pleasant revelation. In fact, it can be downright disheartening. These systems are complicated and expensive to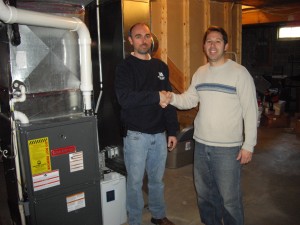 install and it can be hard to know exactly what you'll need. Call Environmental Air Systems today to discuss heating system replacement options for your Central New Jersey area home.
Knowing how complicated and expensive home heating systems are, you want to make sure that it really is time for a replacement before you move forward with such a large project. But how will you know when you need to replace your home heating system? There are actually a few easy things to watch for to make your decision easier.
Call 866-339-HVAC (4822) for Heating Replacement and recieve up to $2,000 in rebates in Central New Jersey

or click here to contact us 
Major Heating System Issues
Some of the heating system warning signs are pretty obvious. For instance, if your house is not being heated evenly or if the system is making a lot of noise, you should suspect that it may be time for an upgrade.
You should also seriously consider a replacement if your boiler or furnace is more than 15 years old. Even if it still seems to be working fine, equipment this old is usually not particularly efficient. You could end up saving a lot by replacing an older model with a newer, more energy efficient one.
Another major indicator that it's time for a new heating system is if your system is breaking down frequently. These types of equipment shouldn't need repairs all that often, so this is a good sign that it's time to replace it. Also, you don't want to wait so long that your unit actually fails and you're without heat until a replacement can be installed.
Along these same lines, if you notice a sudden increase in your heating bills, you should seriously consider that your home heating system is not functioning as it should. As these systems begin to fail, they can become substantially less efficient, leading to a higher bill for you and causing ever greater wear on the system itself.
The Less Obvious Problems
While the problems mentioned may seem obvious, there are some other, less clear–cut issues that can also signal that your heating system should be replaced. For instance, indoor humidity issues can be the result of improperly functioning heating equipment. You may also want to have someone come and check your heating system if you're having problems with dust build–up in all areas of your home.
Expert Advice 
If you have any concerns about these or other home heating issues, our experts will be happy to help you determine exactly what you need. We take our commitment to customer service very seriously and won't try to sell you something you don't need. We value the relationship we have with each and every one of our customers and we want to see you get the right product at the best price around.
With years of experience in this business, we're equipped to handle any type of home heating system replacement.  All of our systems are backed by the best warranties in the industry. No job is too big or too small for our Central New Jersey area technicians to handle. They've been trained in all the latest systems and have the state of the art tools to get the job done right the first time.
We'll come in and evaluate your current heating system and then give you our recommendation. If it is, in fact, time for your system to be replaced, we offer several excellent options in terms of the new systems we can put in place. Your budget and particular situation may dictate which system is most appropriate, and we can help you make this decision.
And when you purchase a home heating system from Environmental Air Systems, we'll also be happy to come back for regularly scheduled maintenance every year to ensure that your system is still running at peak efficiency. Also, if you ever have any questions or concerns about a piece of equipment we've installed for you, we're only a phone call away.
Furnace Replacement
Even with proper maintenance and timely repairs, no furnace can last forever. If you find yourself paying a technician for repairs every month just to keep your furnace running, it may be time to have it replaced. Replacing a furnace is a big, complicated job, so you will need a skilled professional to take care of it for you. Every step must be done carefully, from removing and disposing of the old furnace to properly installing the new one, in order to make sure your home's heating system will continue to run properly. Proper installation is the first step in ensuring your furnace has a long and productive life.